(7/7/2014)
On 20 June 2014, PTSC M&C in coordination with Cuu Long JOC hosted the contract signing ceremony for the Su Tu Vang South West (SVSW) Project. Having attended the ceremony were there representatives from PetroVietnam, PetroVietnam Exploration and Production Corporation (PVEP), PetroVietnam Technical Services Corporation (PTSC), along with themanagement and employees of Cuu Long JOC, PTSC M&C, Vietsovpetro, PTSC Offshore Services, etc.
Representatives from CLJOC and PTSC M&C signing the SVSW EPCI contract
SVSW Project is one of the strategic development schemes of Cuu Long JOC in block 15.1 offshore Vietnam. And PTSC M&C again has the honor to be entrusted by Cuu Long JOC with the EPCI contract responsible for providing detailed engineering, procurement, construction, offshore transportation & installation and offshore hook-up & commissioning (EPCI) services for a 2,000 ton tripod platform, inclusive of modification work on the existing Su Tu Vang Central Processing Platform at the distance of approximately 7.2 kilometers.
On 12 November 2013, the Letter of Intent granting approval of PTSC M&C carrying out detailed engineering, procurement works for the Su Tu Vang South West Project was issued by Cuu Long JOC. Having understood that this is a very fast track project with extremely tight schedule, PTSC M&C has promptly mobilized its qualified personnel and resources to execute the Project. Till date, fabrication and offshore installation work of the SVSW jacket has been completed. In the meantime, fabrication works of the topsides have been being progressed at PTSC M&C's fabrication yard, scheduled for completion and ready for offshore installation campaign in September 2014. 
Delivering his speech at the ceremony, Mr. Do Quoc Hoan – Deputy General Director of PTSC emphasized that the today contract signing was the testimony of effective collaboration between Cuu Long JOC as a client and PTSC M&C as an EPCI contractor. It was also the outcome of hard work and elaborate negotiation among Cuu Long JOC, PTSC M&C and its subcontractors namely PetroVietnam Engineering, Vietsovpetro and PTSC Offshore Services, he added. 
Mr. Nguyen Van Que – General Manager of Cuu Long JOC also highlighted that PTSC M&C deserved credit for its contribution to field development activities of Cuu Long JOC in block 15.1 offshore Vietnam through successful implementation of Su Tu Den Dong Bac, Su Tu Den Tay Nam, Su Tu Trang TLPTP, etc. Mr. Nguyen Van Que believed with PTSC M&C's experience and capabilities coupled with Cuu Long JOC's dedicated supports, PTSC M&C shall continue delivering the SVSW project successfully, on track and in a safe manner. 
Dating back 106 days, first steel of the SVSW jacket was cut and amazingly within that much timeframe, PTSC M&C successfully strived to deliver the jacket offshore, recording a breakthrough in jacket fabrication in Vietnam, said Dr. Ngo Huu Hai – Vice President of PVEP. On behalf of PVEP, Dr. Ngo Huu Hai appealed Cuu Long JOC and PTSC M&C to cooperatively progress the project ensuring targeted first oil in 2014 to be safeguarded.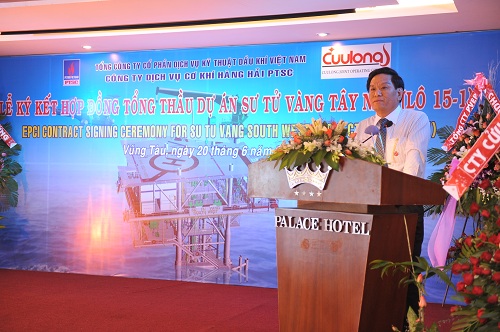 Dr. Ngo Huu Hai – Vice President of PVEP delivering his speech