(10/7/2015)
On 10 July 2015, PTSC M&C in coordination with Hoang Long JOC hosted the ceremony to celebrate the Load-out and Sail-away for the TGT-H5-WHP Topside and the achievement of 1,00,000 working man-hours free of LTIs. In addition, the H5 topsides on this occasion were also name-plated as one of the outstanding projects successfully implemented in celebration of the second congress of PetroVietnam's Party Committee (2015-2020).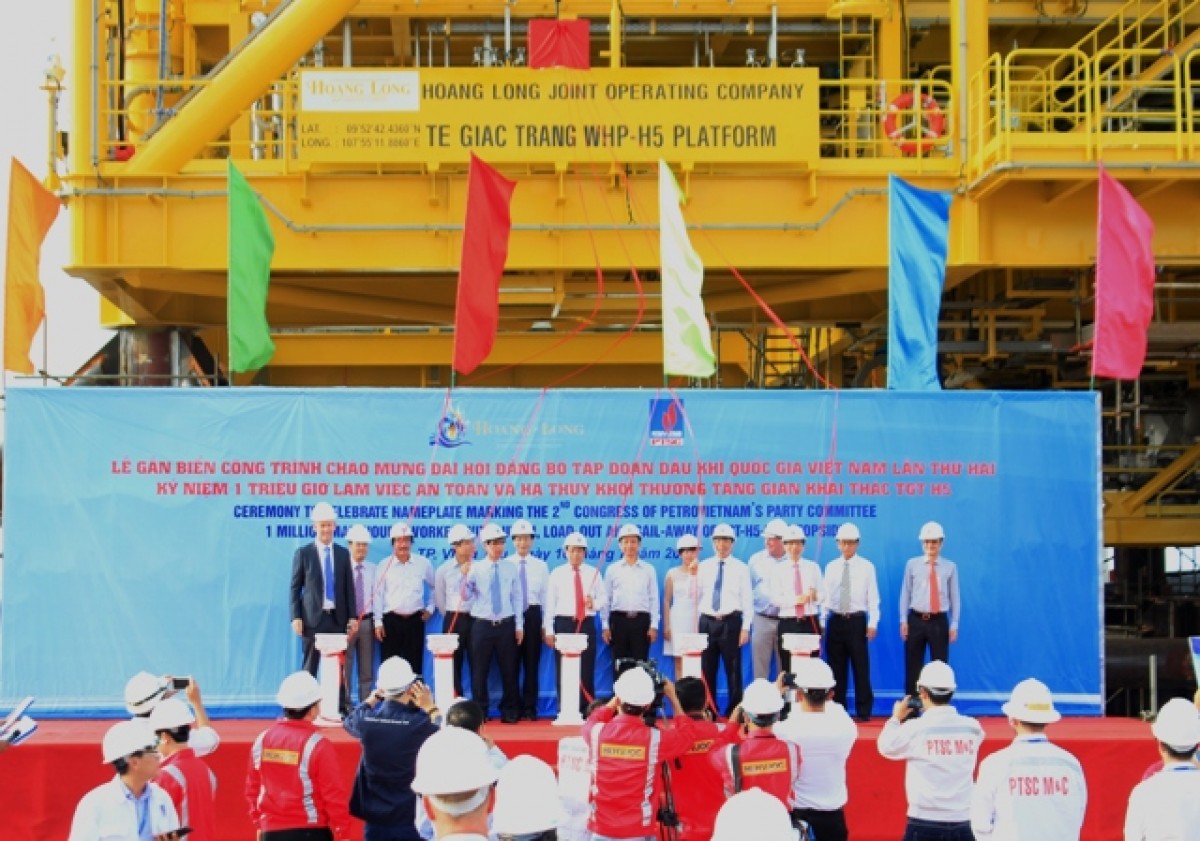 H5 Topsides name-plate marking formality
H5 Project is one of the strategic development schemes of Hoang Long JOC in block 16-1 offshore Vietnam. Being entrusted by Hoang Long JOC, PTSC M&C once again has the honor to be the EPCIC contractor of the Project providing turnkey EPCIC services for a 4,000 ton wellhead platform plus drilling wellbay module and 24 km pipelines.
On 18 March 2014, Hoang Long JOC issued the first Letter of Intent granting approval of PTSC M&C carrying out Construction Engineering, Procurement, Fabrication, Transportation and Installation works of the H5 jacket. The second Letter of Intent requesting PTSC M&C to proceed EPCIC work of the H5 topsides and pipelines was effective on 16 May 2014. Offshore installation of the H5 jacket and drilling well-bay module was successfully completed, achieving more than 550,000 man-hours in September 2014. In the meantime, onshore fabrication work of topsides and pipelines package has been well-progressed that contributes to the achievement of more than 1,000,000 man-hours free of LTIs.
Delivering his speech at the ceremony, Dr. Dong Xuan Thang, PTSC M&C's Chairman cum Director highlighted that "the load-out and sail-away of H5 Topsides is one of the major important milestones of the Project. There are still several milestones with tough challenges and difficulties waiting for us before reaching a final success, especially the safe installation of the Topsides in the uncertain weather condition, the hook-up and commissioning of the whole facilities for the First Oil. Therefore, we still have to excel ourselves, continue striving harder and harder day by day to achieve the targeted schedule in a safe and timely maner."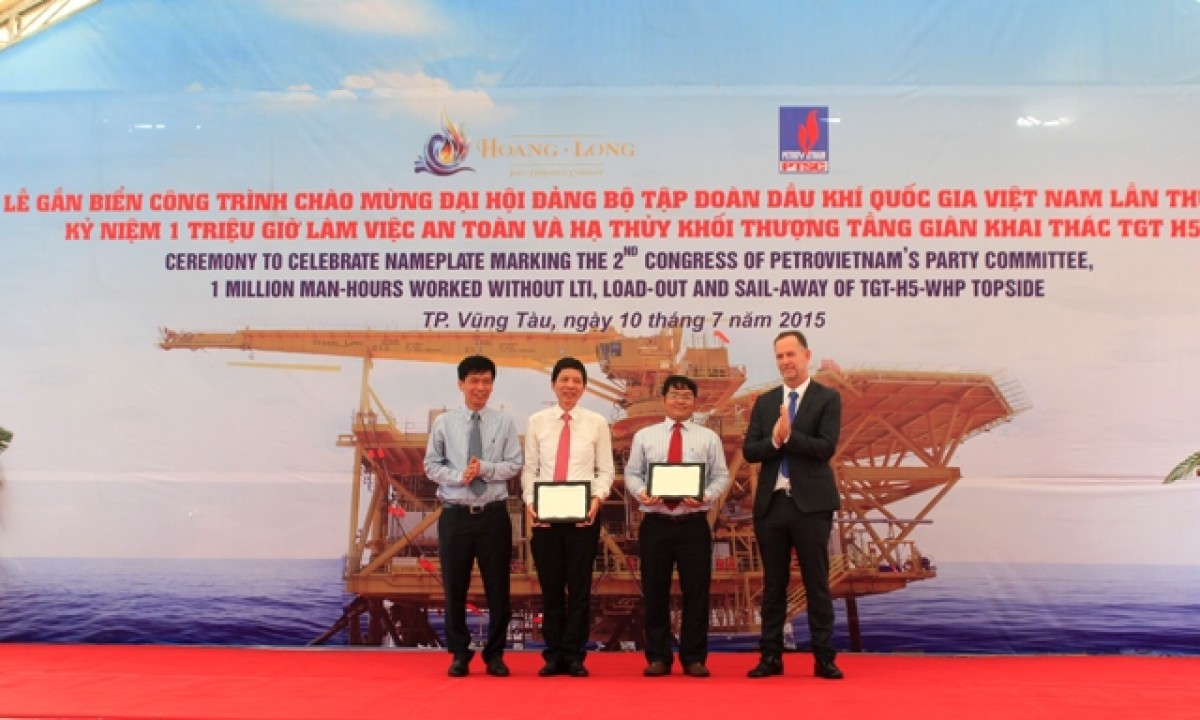 Hoang Long JOC handed over to PTSC M&C the Project Mechanical Completion Certificate
Dr. Cu Xuan Bao, General Manager of Hoang Long JOC also made a remark that the achievement of the today milestone had a significant meaning to the First Oil target from TGT-H5 wellhead platform, which would accordingly increase the production of TGT field by more than 11,000 barrels of oil per day. The said achievement would not only make a signinficant contribution to the production of PVEP and foreign Partners of Block 16-1 but also help sustain the national energy security and maintains maritime sovereignty and economic security, he added.
Tentatively, the Project will be handed over to Hoang Long JOC on 20 August 2015.